We are participating in the IntSaab2012 in Spa, Belgium. Since we are driving to the event from Finland there was some basic maintenance to be done on the car. We'll be using my daily driver – a 1988 Saab 900i Combi (8 valve). Here's our route: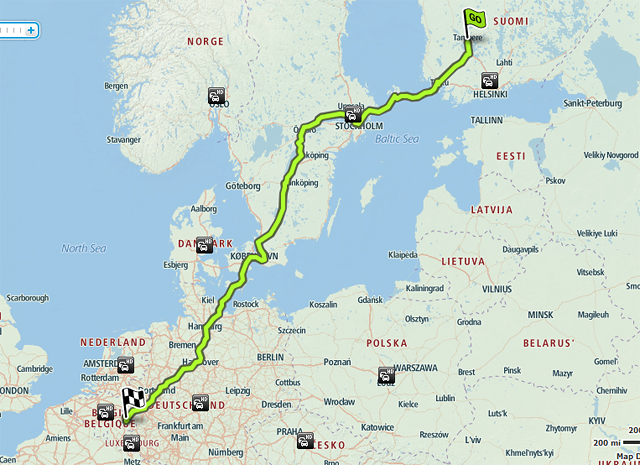 The driving distance is about 1800 kilometers (about 2000 km in total including the ferry part). 200 kilometers from Tampere to Turku in Finland, then a ferry over to Stockholm, Sweden. After that there is a 1600 kilometer drive through Sweden, Denmark, Germany and finally arrival at Belgium and Spa. After the event it's the same route back.
In addition to the basic stuff (checking the oil, changing the spark plugs) done on the 900, we needed to change the front wheel bearings on both sides as they were making some noise. The car has now been driven 418 000 kilometers and by the looks of things the bearings were original. Actually both front wheel bearings lasted about the same amount of kilometers +- a few thousand.
As my 900 is a pretty boring basic model from the eighties and has been a daily driver for all it's life, I thought it would be nice to "spruce it up" a bit. The car is in pretty much the condition as it was when new. The seat covers were installed when the car was new (there was a small company at Tampere that made and sold a ton of these for new Saabs back in the day). There's also some graphics on the rear wings that have probably been there for ages.
To make the 80's look complete I decided to install the rear window louvres I had. For some reason nobody had wanted to buy them… 😀 So, I decided to put them to good use and install them on the 900. And maybe they help to keep the car a bit cooler (no air conditioning!) on the road.
Here's some pictures: