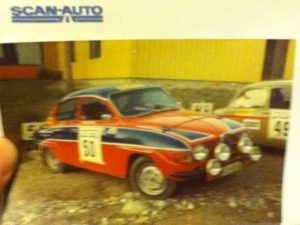 This is my 1969 Saab 96 Rally car. It came to me in bad shape, mostly gutted, but I decided to rebuild it to use it as track day car. Maybe I will even take part in some hobbyist race some day.
This car has some documented rallying history from the 1970's.
The car has now been fully rebuild with a 1800 cc engine, new Ford SOHC/Pinto pistons, cross-flow intake manifold with twin Weber 40 DCOE carburetors. Gearbox is "folk race" variant, with long 1st and 2nd gears. Full Mexico brackets and sump guard. Exhausts are routed rear of the engine compartment. Also full safety cage and racing seats and belts. Electronic fuel pump. Suspension has also been hardened.
Some project posts of building the car: