(This post is for the members of the Saab-Club of Finland)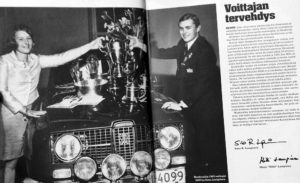 Vastaa ja voita Hankiralli-kirja!
Palkinnon on Suomen Saab-klubi ry:lle lahjoittanut Hankiralli-yhdistys ry. Kilpailu on avoin Saab-klubin jäsenille.
Oikein vastanneiden kesken arvotaan yksi kappale Hankis-kirjaa. Vastaa alla olevaan kysymykseen ja täytä nimesi ja jäsennumerosi. Palkinto lähetetään voittajalle jäsennumeron perusteella, jäsenrekisterin mukaiseen osoitteeseen.
Kilpailu on avoinna 13.4.2014 saakka.
Kilpailu on päättynyt.