Here's a few shots about the crankshaft renovation and a few words on the differences of the "regular" and Sport-crankshaft:
The crankshaft renovation was done by a fellow Saab-enthusiast Lasse Peltola. Many thanks to him for outstanding work.
I'm really sorry if the explanations are a bit hard to follow. I don't know the correct terminology too well…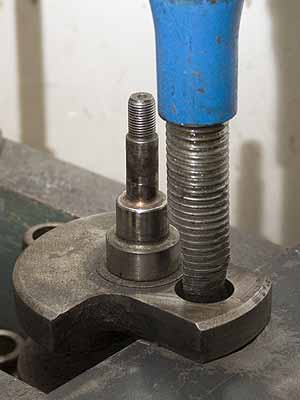 The crankshaft needs to be completely dismantled in a press to change the bearings. Actually you cannot see the connection rod bearings or the connection rod pin condition before you dismantle the shaft. The new bearings (and new pins if necessary) are also pushed to correct place in a press. After that the whole axle is put together again in a press.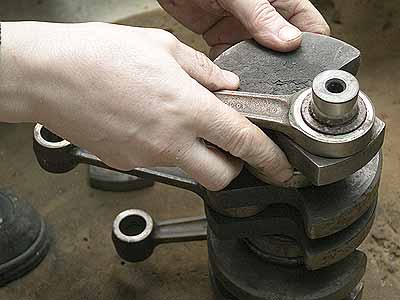 This connection rod pin is clearly worn and needs to be replaced: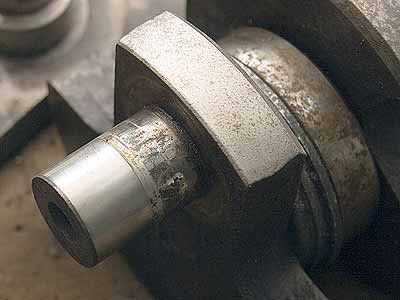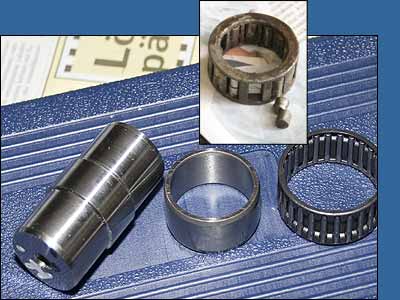 Above: The small picture shows the original roller bearing (with cast aluminium body) which were not very reliable on the long run. These are no-longer availlable, which requires that different type of bearing is used:
Main picture, from left, is the new connection rod pin (the center has bigger diameter to accommodate the new bearing). At center is the new bearings inner race and on the right the new needle-type roller bearing. This bearing has bigger diameter on the outside than the old one, so the connection rod big end needs some grinding.
The crankshaft main bearings are regular ball bearings and are readily availlable.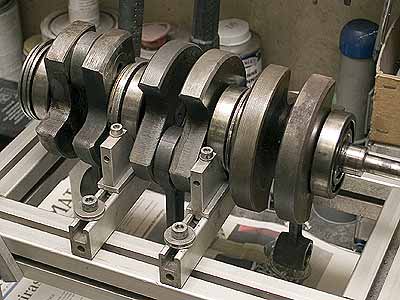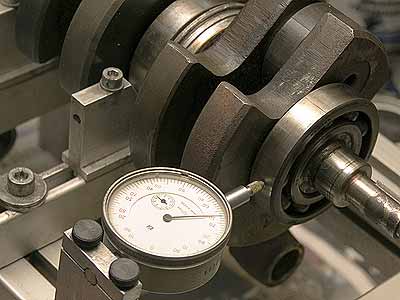 Pictures above: When the axle has been put together, it needs to be straightened (trued?). Straightening is a process of measuring the axle in a jig and hitting it with a hammer to eliminate the "wobble". The factory tolerance for straightness measured as above, is less than 5/100 millimeter.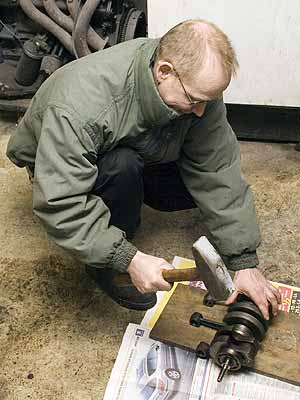 Here's Lasse demonstrating the surgically precise hammer blows! 🙂 Don't try this at home!
Really, this is best left to the experts.
And remember: Never drop the crankshaft! The odds are, it will not be straight afterwards…
A few pics of the Saab Sport crankshaft I recently managed to get hold of: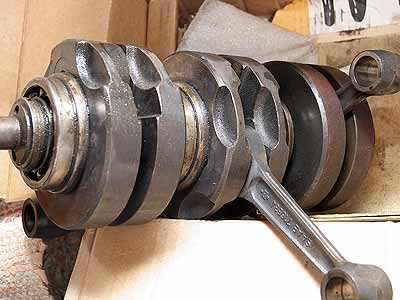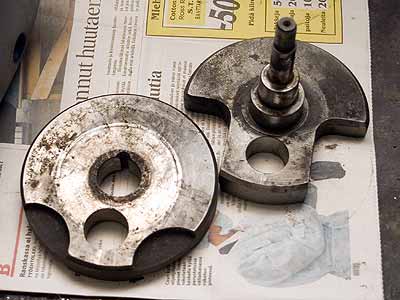 On the left the "counterweight" or limput ("loafs" as we call them) of the sport-type and on the right the regular one. The sport axle has more mass than the regular one and the fully round "loafs" ensure better balance of the whole crankshaft enabling higher revolutions.
The bigger "counterweights" also take up more space in the crankcase, which results in higher pressure in the cylinder (more mixture). This gives you more power.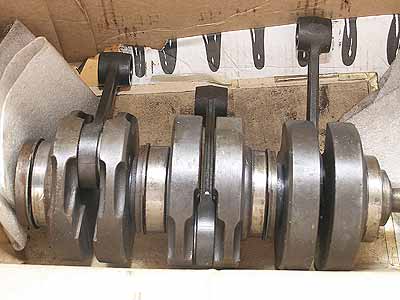 The Sport crankshaft also has better crankcase chamber-to-chamber sealing (see the sealing rings on both sides of the main bearings.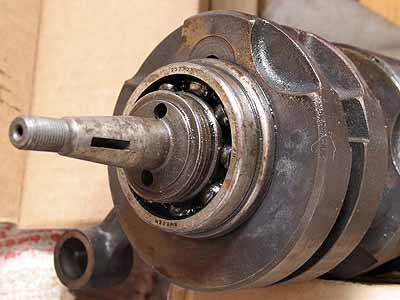 Above the full axle, very easy to identify by the fully round "loafs".