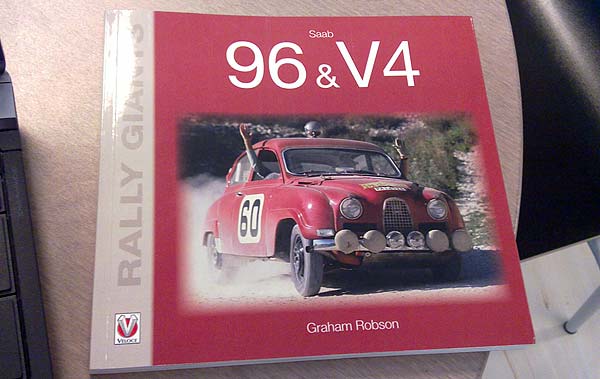 I just finished reading Graham Robsons book "Rally Giants – Saab 96 & V4".  I wasn't expecting too much of it, since it was only 128 pages and the price was surprisingly reasonable at Amazon.com. But actually the book does give a nice overview of the Saab rallying efforts and mentions all the highlights from the two stroke era to the end of the Saab 96/99  times. The technology side is somewhat cursory but describes the evolution of Saab rallying engines and cars in a level appropriate for this sort of book.
The imagery was a nice surprise. In addition to the usual promotional material there were some not familiar from previous publications or internet. Presumably some came from the archives of Saab Museum in Trollhättan with the help of Peter Bäckström.
I'm no expert on Saab rallying (especially the Swedish effort), but I did manage to find one error in the book: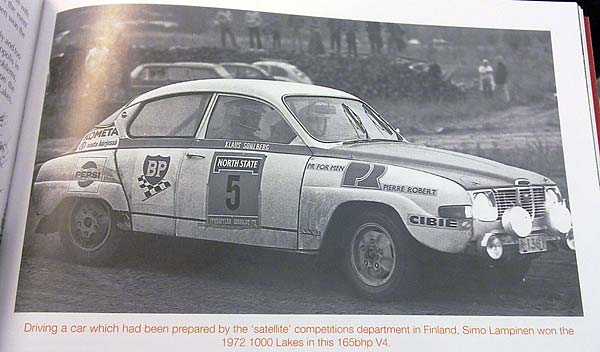 Robson claims that Simo Lampinens Rally Of The 1000 Lakes winning car in 1972 was prepared by Saab Finland Works team. Actually this car was not prepared by Saab Works Finland but brought in from Sweden for this one race (the coloring is misleading in this case). It went right back after the race. Hence the temp licence plate.
There was not a whole lot of detail about the Finnish drivers and cars in the book, which was something of a disappointment from a Finnish perspective. Saab Works Finland built 19 full specs Saab 96 rally cars and 2 Saab 99 16 valve cars from 1970 onwards and brought home many international and scandinavian victories for Saab. It would have been nice to see a bit more detail of this side of the "operation".
The Swedish – Finnish partnership worked pretty well though – despite the obvious rivalry. Simo won the 1000 Lakes in a Swedish prepared car and Stig Blomqvist brought home the last major victory for Saab 96 in a Saab Works Finland prepared car in the 1977 Hankiralli (Arctic Rally). This shows that the co-operation worked, despite Tapio Rainio really hating the fact that he had to give his favorite car (the AEC-501, which had been mainly in his use since RAC 1974) to a "swede"… 😀
But all in all – a good read with some nice photos. Well worth the price.