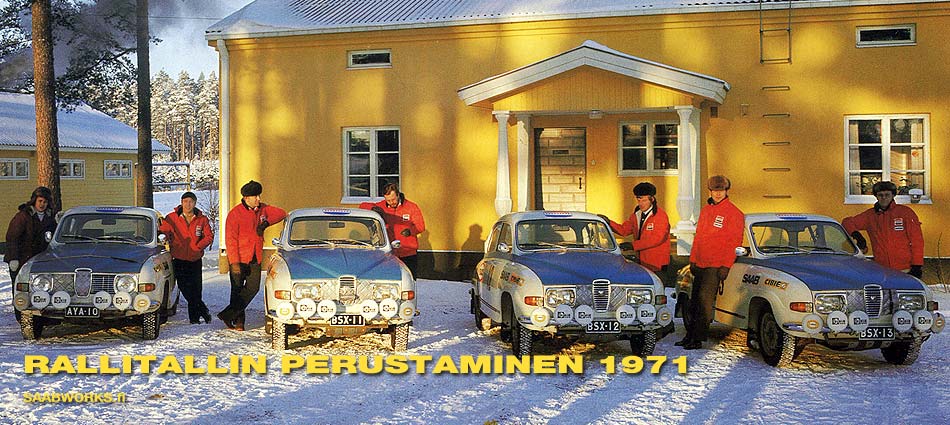 Me and my friend Tomi "Tikkis" Tikanmäki have a new project.
We are collecting info and pictures of the Finnish Saab Works Team of 1970's. Saab Works Finland built 19 full specs Saab 96 rally cars and 2 Saab 99 16 valve cars from 1970 onwards and brought home many international and scandinavian victories for Saab. Many of the cars have survived to this day, which makes this project (finding out their history) very exciting. The long term goal is to collect a comprehensive archive of all the drivers, cars, the team, etc.
I'm sorry the site is currently in Finnish only, we still have a ton of info and pics to upload so the english translation will come later: www.saabworks.fi
But at least you can check out the cars from the top navigation (they are indexed by the registration number and all the Saab Works Finland team cars can be found under the Saab Works Finland tab). There are also other cars featured on the site, just click through the top menu to see them.
Woodbecker Motorsport is Tomi's team – he drives the AYA-10 Saab 96 ExWorks rally car in the Historic Rally Trophy here in Finland and does quite well in it also. AYA-10 was the first Saab 96 built by Saab Works Finland for Leo Kinnunen to compete in the 1970 Rally Of The 1000 Lakes. It's very cool that the same car is still being raced 40 years later.
We are very interested in all pictures and materials concerning the Finnish teams efforts abroad. Finns participated in many rallies in Scandinavia and also the RAC in many years. If you have info, statistics, interviews from old magazines, pictures or anything related to the blue&white cars and their drivers, we would very much appreciate a scan or copy. Please contact us at saabworks@gmail.com.
Tommi