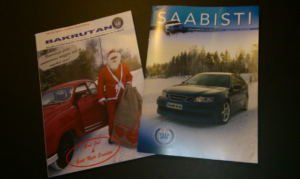 Well, I certainly know what I'll be doing through the Christmas holidays 😀
Two awesome Saab-magazines –  the Bakrutan of Saab Club Sweden and Saabisti of the Saab Club Of Finland – arrived on my doorstep just in time for the holidays. A total of 148 pages of Saaby stuff to read through!
Merry Christmas and a very happy New Year to everyone!