Some of the Saab 96 "chrome" parts don't take time too well. On older saabs most of the shiny parts are made of some kind of zinc/aluminium/whatever alloy, but on the newer ones they are mostly chrome plated steel.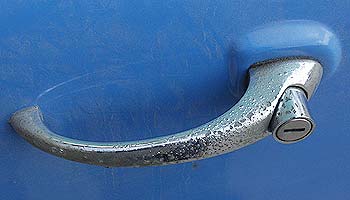 Above: This is how the door handles (and mirror attachments) usually look if the car hasn't been exceptionally well taken care of (especially here in finland wintertime is very hard on cars).
Fortunately I found an unused pair of door handles with locks and keys: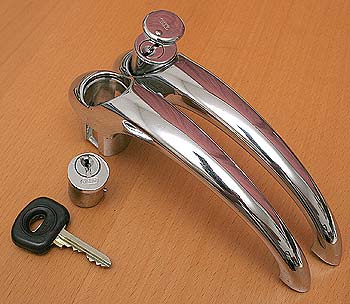 The set is almost compele, I'm only missing a few parts of the driver side button assembly and locking arm (I'll get those from the project car, just have to see that they are in good condition).
Note that the passenger side lock even has the mud/snowguard. They figured at saab that the passenger side lock is allmost never used by key, so it needs some protection from the elements to not get all dirty and stuck.

Closeup of the keys. They sure made them nice back then.