Since the 900i was stolen I was forced to buy a new car.

(The 900i was later found in pretty good condition though… So I now have the 900i and this Turbo as well).
This is what I found: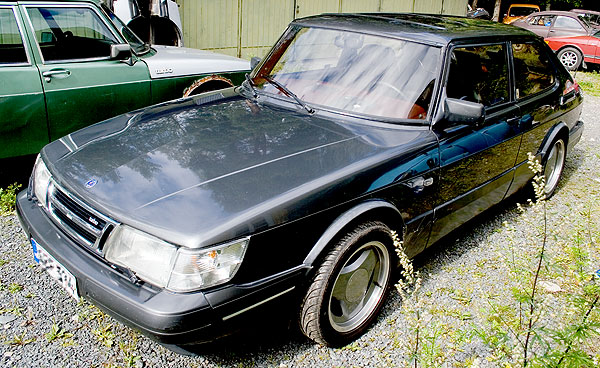 It's a 1989 Saab 900 T8 Special. Or as it is sometimes called "a poor man's Aero".
It has all the same extras (such as Airflow body kit and Aero rims) as Aero, expcept that it has no cruise control and the engine is not T16, it's T8. The reason for the T8 engine is simple; When T16 became availlable Saab noticed that the T8's in stock became impossible to sell. They got the idea to bundle the T8's with a bunch of accessories for better marketability and thus the T8 Special was born.
The Saab 900 T8 Special was sold only in Sweden, only in 1989, only in Odoardo Grey paint and only with Ox Blood red leather interior. The model also had Airflow kit, Aero rims, electric roof hatch, electric mirrors, electric windows and a little rear wing.
Someone told me that only 300 T8 Specials were made, but I have not been able to verify this. But, I also read on a Swedish forum that 1989 was the final year for the T8 so all T8 Turbos made in 1989 were like this. In that case something like 1000 units would be closer. But, as I said, I really have no real info on this.  (Update: The President of the Saab Club of Finland also said there was about 300 Specials made of the total of around 1000 1989 T8s. So the 300 should be the correct figure.)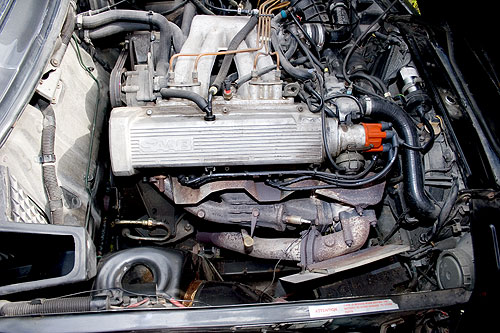 The oldschool T8. It's not sissy like the low boost "S" turbo but nor is it civilized like the T16. T8 has a hefty amount of turbo lag and it doesn't really boost under 3000 rpm – but when it finally gets into gear… Oh boy.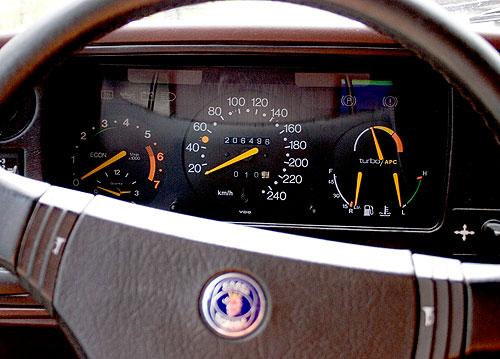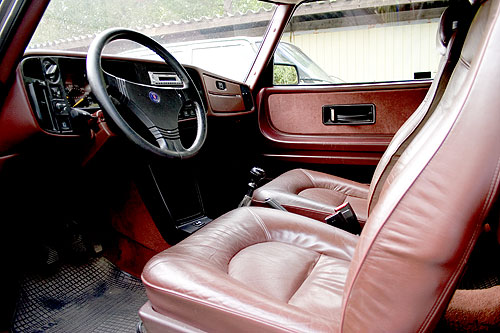 Leather steering wheel and Ox blood red leather seats. Even the dash is red!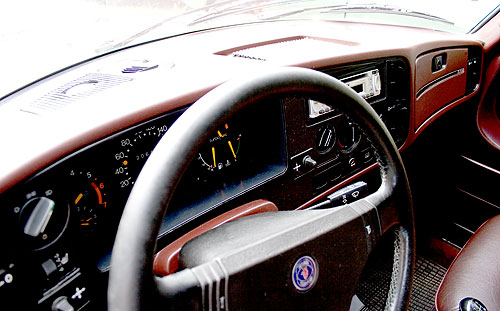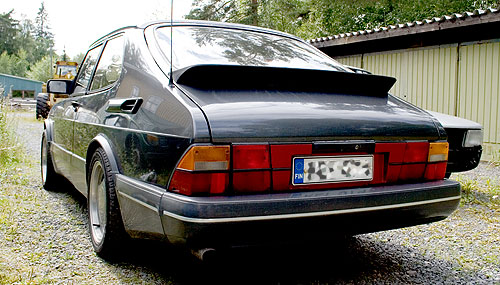 I just bought the car yesterday but I absolutely love it already!
…Almost forgot – this one has car alarm and immobilizer.