Since I put the lambda gauge in the two-stroke I noticed that it's running a little on the lean side.
The engine is the 1966 triple-carburetor version. I figured the problem has to be the main jets since adjusting the mixture screw didn't help. I had 120-135-120 main jets in at the time (that's 1.2 mm jet in the front and back carburetors, and 1.3 mm in the middle since it runs hotter). With those main jets the lambda was about 1.0 at full throttle on the motor way. And I think that's too lean for a two-stroke.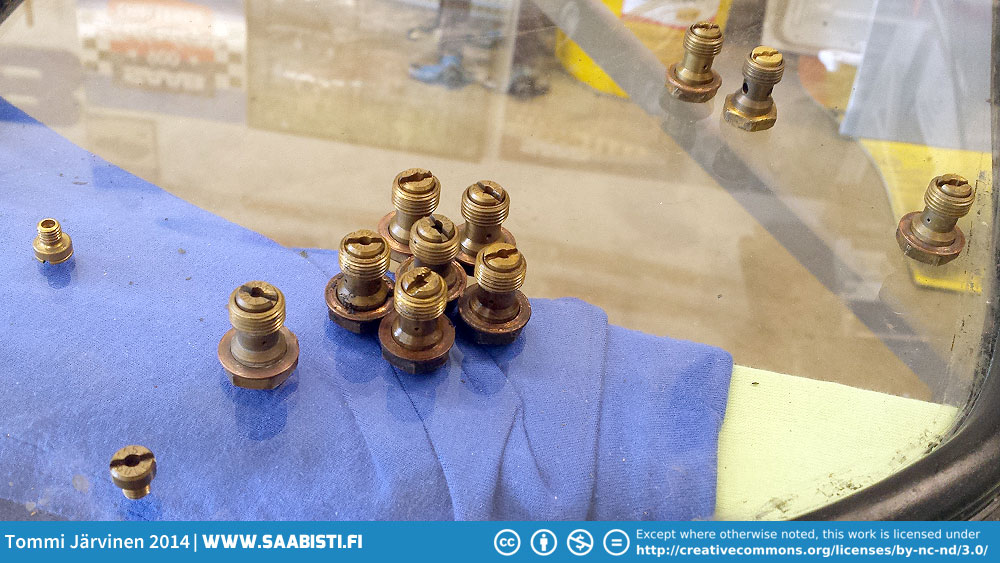 The factory original jetting for the time was 115-130-120 front to back.
I figured I'll increase the jetting 10% and see what happens. So I put in 130-150-130 jets. with this setting I'm now getting a 0.9 lambda at full throttle and acceleration.
The performance of the engine is clearly better with this jetting. So I was wondering if I should try and go for even bigger jetting and aim for a lambda somewhere between 0.8 to 0.9. The engine is unported (stock) but I have a modified Sport exhaust system.
I noticed in Niklas' XP-Manual (www.classicsaabracing.com) that he recommends 125-140-125 main jets for modern fuel (95 octane with 5% alcohol).
Niklas also notes that if you have a "stall" when stepping on gas it may be because of too small idle jet. That's probably something I need to look into since I seem to have a little bit of that symptom. It's also clearly visible on the lambda since the value drops to 1.5 when pushing the pedal and the rises to the 0.9 level.
So I would be very much interested on what other people use for jetting on the 1966 engine?